PPC outsources smelting & refining operation to JX Metals Smelting Co., Ltd. (100% subsidiary of JX Nippon Mining & Metals) Saganoseki Smelter & Refinery and Hitachi Refinery, and Hibi Smelting Co., Ltd. (100% subsidiary of Mitsui Mining & Smelting). Hibi Smelting re-outsources to Hibi Kyodo Smelting Co., Ltd. Tamano Smelter.
Each of these sites has high technical capabilities, cost-competitiveness, and productivity. At the same time they are meeting rigorous environmental standards in Japan. Aggregate production capacity of refined copper totals 650,000 tons per year (450,000 tons from Saganoseki and Hitachi, and 200,000 tons from Tamano※), the largest output in Japan and among the largest in the world. Also produced refined copper has earned a solid market reputation for quality.
※PPC's outsourcing quantity out of total capability 290,000 tons
Precious metals (gold and silver), rare metals (selenium and tellurium) and other by-products (sulfuric acid, crude nickel sulfate, ammonium perrhenate [APR], copper sulfate, etc.), are efficiently recovered during the production process of refined copper, which PPC supplies to the market as industrial materials of various kinds.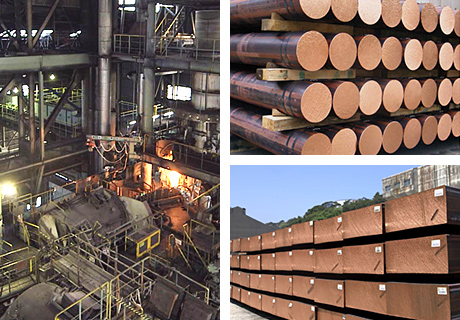 Copper Cakes and Billets
Japan Copper Casting Co., Ltd., a subsidiary of JX Metals Smelting, produces copper cakes and billets, which are used as raw materials for copper rolled products and electric wires and cables.
Employing its continuous-casting systems, a wide range of high-quality copper cakes and billets, such as electrolytic tough pitch copper (ETP), phosphorus deoxidized copper (DHP), and oxygen-free copper (OFC) are supplied to the market through PPC.
Click here for information about the copper smelting and refining process